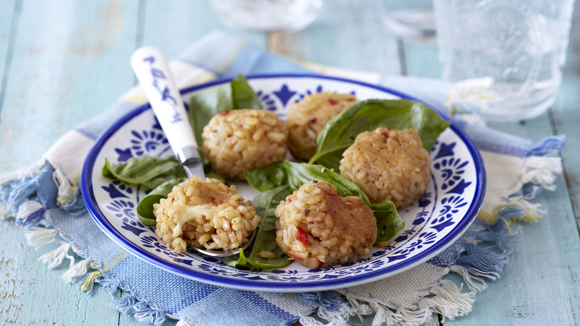 Rice Balls with Mozzarella, Basil and Garlic
Garlic, rice, mozzarella cheese and fresh basil make these rice and cheese balls a tasty treat that will impress your friends.
Recipe serves

4

Preparation time

20 minutes

Cooking time

40 minutes
Ingredients
30 ml Olive oil
1 Onion, finely chopped
1 Garlic clove, crushed
½ Red pepper, diced
250 ml Arborio rice, washed
1 KNORR Garlic and Herb Potato Bake
700 ml hot water
100 ml White wine
75 g Mozzarella cheese
Oil for deep frying
Fresh basil to garnish
Method
Heat the olive oil and fry the onion and garlic until soft.
Add the pepper and rice to the pan and cook for 3 min stirring to coat the rice in oil.
Mix the KNORR Garlic & Herb Potato Bake packet with the water and the wine and add to the pan a little at a time, waiting for the liquid to be absorbed by the rice before adding the next ladleful of liquid.
Once all the liquid has been absorbed and the rice is tender, remove the pan from the heat and leave until the mixture is cool enough to handle.
Cut the cheese into 12 blocks, then, taking about a tablespoon of risotto, shape the mixture around the cheese pieces to make 12 balls.
Heat the oil and fry the risotto balls in batches until golden.
Serve hot and garnish with fresh basil.