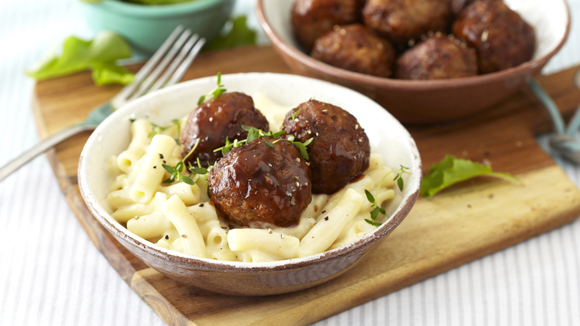 Macaroni Cheese with Meatballs
Nothing beats the taste of homemade meatballs, and served with macaroni and cheese this dinner is a real treat for the kids.
Recipe serves

4

Preparation time

15 minutes

Cooking time

20 minutes
Ingredients
50 g Fresh white breadcrumbs
500 g lean beef mince
1 Onion, chopped
1 Egg, beaten
15 ml Mixed dried herbs
Salt and pepper to season
60 ml Flour
15 ml Oil
125 ml Milk
310 ml Water
30 ml Stork margarine
1 Packet KNORR Macaroni and Cheese Pasta and Sauce
1 Sachet Knorr Monkey Gland Sauce
Macaroni to serve
Method
Combine breadcrumbs, mince, onion, egg, dried herbs and seasoning.
Roll into 20 balls, coating in flour.
Refrigerate for 10 min before frying in batches in hot oil.
Place the milk, boiling water and Stork margarine in a saucepan and bring to the boil Add the contents of the sauce sachet and macaroni sachet and simmer for 10 min, stirring occasionally.
Remove from heat, cover and stand for 2 min.
Pour contents of Knorr Monkey Gland Sauce into a jug and fill up to 250 ml mark with boiling water and stir with a fork for 1 minute and, allow to cool slightly.
Roll the meatballs in the Knorr Monkey Gland Sauce and serve over macaroni.