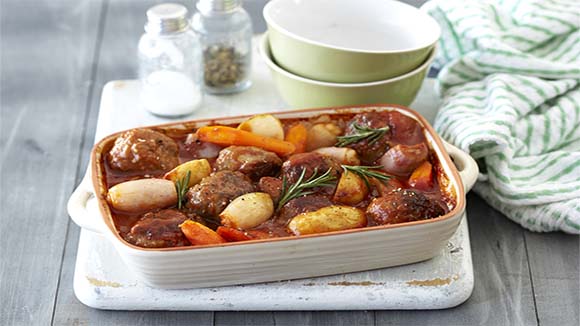 Meatball, Tomato and Potato Casserole
There is no one in the family that will not like this meatball casserole and ask for seconds.
Recipe serves

4

Preparation time

5 minutes

Cooking time

60 minutes
Ingredients
100 Millilitre water
½ Onion, finely chopped
2 Tablespoon Finely diced green pepper
1 Teaspoon Mustard powder
60 Millilitre Flour
35 Millilitre Canola oil
650 Millilitre Tomato juice
8 Medium carrots, cut into thirds
1 sachet KNORR Homestyle Meatball Kebabs Dry Cook-in-Sauce
6 New potatoes, halved
15 Baby onions, peeled
500 Gram Beef mince
Method
Preheat oven to 180°C.
In a bowl combine the mustard powder, green pepper, onion, mince, water and contents of the sachet of KNORR Homestyle Meatball Kebabs Dry Cook-in-Sauce.
Shape into 12 meatballs and roll into flour.
In a frying pan, brown meatballs in oil and place in an ovenproof dish.
Gradually stir in the tomato juice and bring to a boil.
Cook for 2 minutes or until the sauce has thickened.
Pour over meatballs and add vegetables.
Cover and bake in a preheated oven for 1 hour or until meatballs are cooked through and vegetables are tender.