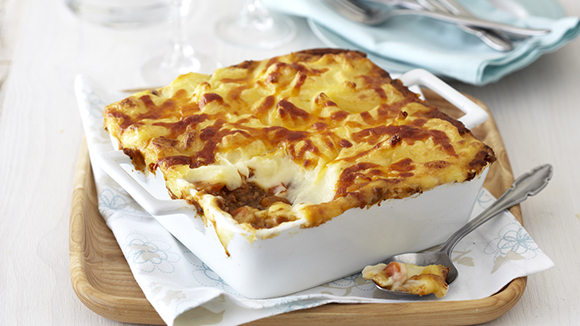 Festive Cottage Pie
Always popular, this cottage pie is made using mince, herbs and vegetables.
Recipe serves

4-6

Preparation time

10 minutes

Cooking time

60 minutes
Ingredients
15 Millilitre oil
600 Gram Beef mince
1 Onion, diced
3 Carrots, diced
30 Millilitre Flour
15 Millilitre Dried mixed herbs
30 Millilitre chopped fresh parsley
375 Millilitre Beef stock
15 Millilitre Tomato paste
1 Pinch Salt and pepper to taste
8 Medium potatoes, peeled and diced
60 Millilitre Stork Margarine
1 KNORR Bacon and Onion Flavour Potato Bake
375 Millilitre Milk
125 Millilitre grated Cheddar cheese
Method
Preheat the oven to 200°C.
To make the meat filling:
Heat oil in a large frying pan and add the beef mince.
Fry for 1 min and add onion and carrots and continue to fry until the mince is cooked.
Mix in flour, mixed herbs and parsley.
Mix the stock and tomato paste in a jug and add to the mince mixture.
Season with salt and pepper and simmer for 15 min, stirring occasionally until most of the liquid has been absorbed.
Spoon the mixture into a 20 X 20 cm ovenproof dish.
To make the potato topping:
Place diced potatoes in a medium sized pot.
Cover with water and bring to the boil over high heat.
Boil for 20 min until the potatoes are cooked.
Drain.
Mash the potatoes until smooth and then add the margarine.
Mix the sachet contents with a little milk to make a smooth paste and stir in the remaining milk.
Add to the mashed potato and continue mashing until well combined.
Spread the potatoes over the mince mixture and sprinkle with cheese.
Bake in a preheated oven for 25 min until the top is browned and the cheese is bubbling.