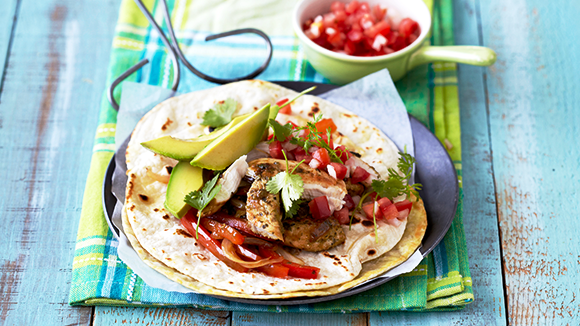 Chicken Fajitas with Avocado and Peppers
This delish Mexican dish of Chicken Fajitas has a new twist – add pesto and coriander for a tasty and filling treat!
Recipe serves

4 to 6

Preparation time

15 minutes

Cooking time

10 minutes
Ingredients
15 ml Basil pesto
1 Juice of 1 lime, plus extra juice to sprinkle
2 Garlic cloves, crushed
15 ml oil
5 ml Robertsons Origanum
5 ml Robertsons Cumin
1 Cup Coriander leaves, chopped
800 g Chicken breasts, cut into strips
4 Tomatoes, finely chopped
1 Onion, half diced, half sliced
1 KNORR Chicken Stock Pot
2 Avocado
2 Red peppers, cut into large strips
12 Tortillas, to serve
Method
Combine lime juice, garlic, 5 ml oil, origanum, cumin, chopped coriander and basil pesto in a shallow bowl and season with pepper.
Add chicken and toss to coat.
Refrigerate and marinate for 1 hour or overnight.
Combine tomato and diced onion in a small bowl and season to taste.
Halve and stone avocado, then slice and sprinkle with extra lime juice.
Heat a frying pan.
Toss red pepper and sliced onion in remaining 10 ml oil and fry for 4 minutes, tossing frequently.
Add chicken and KNORR Chicken Stock Pot and cook for 3-4 minutes until brown.
Toss through red pepper and serve with tomato mixture, avocado, tortillas and extra coriander.
Serve chicken on top of tortillas or roll the chicken up in the tortilla to make it easier for the children to eat.