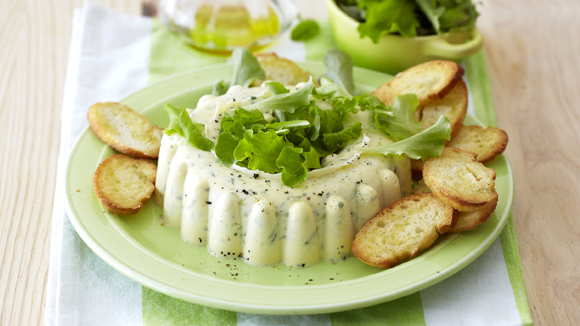 Cucumber Mousse
Make a cucumber mousse to serve up during the New Year festivities made with cream cheese, mayo, chives, lemon juice and fresh cream.
Recipe serves

6

Preparation time

20 minutes

Cooking time

5 minutes
Ingredients
125 Millilitre Fresh cream
15 Millilitre Finely chopped chives
2.5 Millilitre Freshly ground black pepper, to taste
half KNORR Chicken Stock Pot diluted in 125ml warm water
125 Millilitre mayonnaise
500 Gram English cucumber, grated
250 Gram Cream cheese
2.5 Millilitre Tabasco sauce
15 Millilitre Gelatine
2.5 Millilitre Celery salt
15 Millilitre Finely chopped parsley
10 Millilitre lemon juice
Method
Put the cucumber in a colander and sprinkle with salt.
Leave, covered, for about 30 minutes to drain off liquid.
Put the cream cheese in a bowl and stir until smooth.
Add the mayonnaise and Tabasco and stir until well mixed and smooth.
Soften the gelatine in the chicken stock, and warm over gentle heat until stock is hot (not too hot).
Stir well, take off heat and allow it to cool down for a little while, while you continue.
Drain the cucumber by shaking the sieve, and pat lightly with kitchen paper.
Oil a 1 litre mould.
Add the cream-cheese mixture into the stock and beat together.
Season with pepper and salt, and add the cucumber, chives and parsley.
Fold in well.
When the cucumber mixture starts to thicken, whip the cream until soft peaks form, and fold into the mixture.
Add the lemon juice and stir in well.
Pour into the oiled mould, and leave in the refrigerator to set (6 hours or overnight.)
Turn out on a platter and serve with crispy dippers.