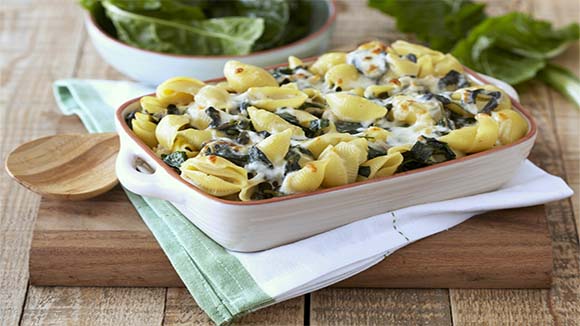 Creamy Pasta Bake with Spinach and Mozzarella
Popeye's favourite! Made with pasta, wine (Olive's addition) and of course spinach.
Recipe serves

4

Preparation time

5 minutes

Cooking time

40 minutes
Ingredients
250 Millilitre Cream
1 Packet of chopped spinach
125 Millilitre Dry white wine
1 Clove garlic
1 Onion, sliced
375 Gram Shell pasta
250 Millilitre Mozzarella cheese, grated
15 Millilitre sunflower oil
1 sachet KNORR Chicken a'la King Dry Cook-in-Sauce
Method
Preheat oven to 180°C.
Cook pasta in boiling salted water until al dente then drain and set aside.
Heat oil in a pan and fry onions and garlic until soft.
Add wine and spinach, put lid on to wilt spinach and leave for 5 min.
Add the KNORR Chicken a la King Cook-in-Sauce sachet contents and the cream and simmer until the sauce has thickened.
Season with salt and pepper.
Mix the pasta shells and the spinach sauce together.
Spoon into a rectangular baking dish and top with mozzarella cheese.
Grill until the cheese is bubbling and golden brown.
Serve with an assortment of squashes.