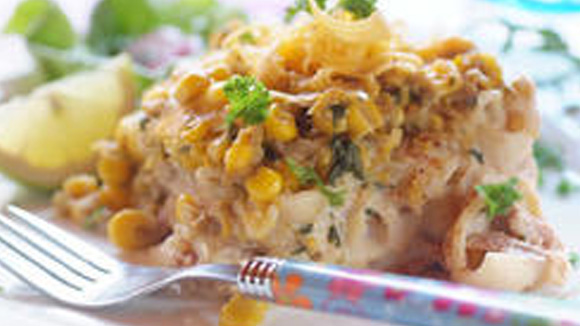 Tuna Bake With a Corn Topping
Try a topping with a difference for this tuna bake using corn kernels, onion and cumin topped with fresh coriander and a sprinkling of cheese.
Recipe serves

4-6

Preparation time

20 minutes

Cooking time

80 minutes
Ingredients
250 Millilitre cold milk
1 clove garlic, crushed
1 red onion, chopped
15 Millilitre oil
1 Box KNORR Tuna Mate Cheddar-Melt
800 Millilitre hot water
2 Cans Tuna, drained
black pepper
Method
Preheat oven to 200 C.
Heat oil in a large, non-stick saucepan.
Add onions and garlic and sautè until soft.
Stir in sachet of seasoning spice blend, milk and water and mix together well.
Add prawns, lime zest and the uncooked pasta and bring to the boil, stirring occasionally.
Reduce the heat and allow to simmer uncovered for 15-20 min until the pasta is cooked
Pour into a baking dish and spread out evenly.
To make corn topping: cut corn kernels from corn cobs and transfer half of the kernels to a food processor, process until finely chopped.
Place processed kernels, whole kernels, onion, cumin, water, and cook uncovered, for 30 minutes or until liquid has evaporated and mixture resembles mushy peas.
Stir in coriander and season with salt and pepper.
Press the corn topping onto the tuna dish and sprinkle with grated cheese.
Bake in a preheated oven for 20 minutes until golden brown.