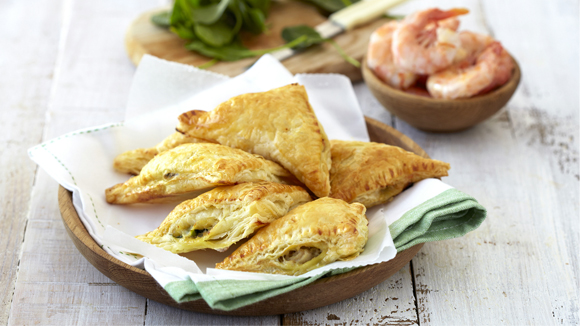 Prawn and Crab Puff Pastry Parcels
If you're expecting guests over during the holidays for drinks, serve up these prawn wellingtons on a festive platter.
Recipe serves

4

Preparation time

30 minutes

Cooking time

25 minutes
Ingredients
2 Tablespoon Olive oil
4 Cup Shredded fresh spinach leaves
Salt and pepper to taste
1 Sheet frozen puff pastry, thawed
120 Gram Crabmeat, flaked
1 KNORR Classic White Sauce
1 Tablespoon Chopped spring onion
1 Tablespoon Chopped fresh fennel
6 Jumbo prawns, peeled and deveined
1 egg, beaten
Method
Preheat oven to 200°C.
Grease a baking sheet.
Heat oil in a large frying pan over medium heat.
Add spinach and stir fry until wilted (about 3 minutes).
Season with salt and pepper.
Squeeze out the excess liquid and set aside.
Cut a sheet of puff pastry into 4 squares.
Prick lightly with a fork.
In a medium bowl, mix crabmeat, prepared KNORR Classic White Sauce, spring onion, and fennel until well blended.
Cut prawns lengthwise (not all the way through) and open them up.
Lay one prawn in the middle of each pastry square with open side facing up.
Stuff each prawn with an equal amount of spinach and top with a heaped tablespoon of the crab mixture.
Fold over the pastry to make a triangle, and press the edges to seal.
Place on the baking sheet, and brush with the beaten egg.
Bake in a preheated oven until golden brown, 15 to 20 minutes.
Serve warm.