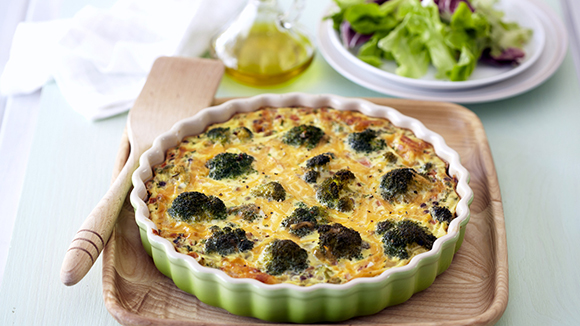 Lentil, Broccoli and Cheese Quiche
The combination of lentils, broccoli and cheese make this quiche recipe the ideal Sunday lunch meal served with a salad.
Recipe serves

6

Preparation time

10 minutes

Cooking time

70 minutes
Ingredients
250 ml Milk
4 Eggs, beaten
125 ml grated Cheddar cheese
250 ml Chopped fresh tomatoes
500 ml Broccoli florets
500 ml water
125 ml Dried lentils
30 ml Olive oil
250 ml Chopped onion
1 KNORR Chicken Stock Pot
Salt and pepper to taste
5 ml Chopped thyme
5 ml Chopped parsley
Method
Preheat the oven to 180°C.
Place the onion and olive oil into a 27cm round deep quiche dish.
Bake for about 15 minutes, or until onion is tender.
Place the lentils, water and KNORR Chicken Stock Pot into a saucepan and bring to the boil.
Cook for about 20 minutes, or until lentils are tender.
Drain most of the water off, and then place the broccoli florets on top of the lentils.
Cover with a lid and cook for about 5 minutes.
This will dry the lentils and cook the broccoli.
Transfer the lentils, broccoli and tomatoes to the round dish with the onions and stir to evenly distribute each item.
Stir in the cheese.
In a medium bowl, whisk together the eggs, milk, salt, pepper, thyme & parsley.
Pour over the ingredients in the dish.
Bake for 45 minutes in the preheated oven, or until the centre is firm when the quiche is jiggled.
Cool for a few minutes before slicing and serving.
Serve with a light green salad.