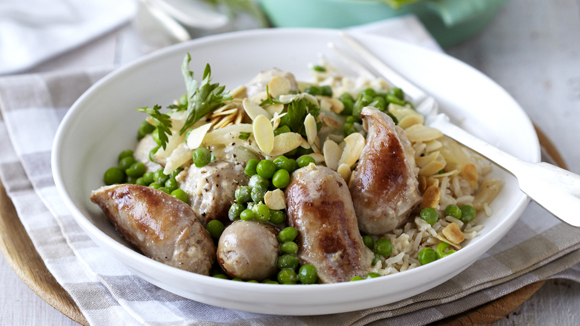 Creamy Pork Sausage and Pea Casserole
This dish makes a tasty family feast any night of the week using pork sausages and green peas.
Recipe serves

4-6

Preparation time

20 minutes

Cooking time

60 minutes
Ingredients
1 Clove garlic, minced
Ground black pepper to taste
15 ml Soy sauce
1 KNORR Chicken and Mushroom Pan Dry Cook-in-Sauce
2 Tins evaporated milk
3 Onions, chopped
125 ml Toasted flaked almonds
500 g Pork sausage, sliced
500 g frozen peas
Method
Preheat the oven to 180°C.
Place the sliced pork sausage into a large frying pan over a medium-high heat.
Cook and stir until evenly browned.
Place sausage on kitchen towel to absorb excess fat and set aside.
Fry the onions in the same pan until soft.
Grease a square baking dish with non-stick cooking spray.
In a large bowl, stir together the evaporated milk, contents of the sachet of KNORR Chicken & Mushroom Pan Dry Cook-in-Sauce, soy sauce, garlic and pepper.
Add the sausage, peas and stir until evenly coated. Pour the mixture into the prepared baking dish.
Top with fried onions.
Bake for 40 minutes in the preheated oven.
Let it rest for 5 minutes before serving and sprinkle with lightly toasted almonds.
Serve with brown basmati rice.