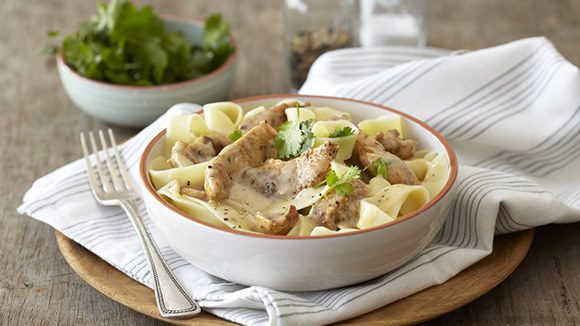 Pasta with Cajun Chicken, Sour Cream and Mushrooms
Cajun seasoning and coriander combine to give this mushroom pasta extra zing.
Recipe serves

4

Preparation time

5 minutes

Cooking time

30 minutes
Ingredients
½ Cup Coriander leaves
15 Millilitre oil
2 Chicken breasts, cut into strips
20 Millilitre Robertsons Louisiana Cajun Seasoning
1 packet KNORR Sour Cream & Mushroom Pasta & Sauce
375 Millilitre hot water
30 Millilitre Stork Margarine
125 Millilitre Milk
Method
Place chicken strips and Louisiana Cajun seasoning in a plastic bag and shake to coat the chicken pieces evenly.
Heat oil in a frying pan and fry the chicken pieces until cooked through.
Set aside.
Place the milk, water and Stork margarine in a saucepan and bring to the boil.
Add the contents of the KNORR Sour Cream & Mushroom Pasta & Sauce packet and cook over high heat for 5 minutes, stirring occasionally.
Stir in the sliced cajun chicken.
Simmer for a further 5 minutes and add the coriander leaves.
Remove from the heat, cover and stand for 2 minutes before serving.