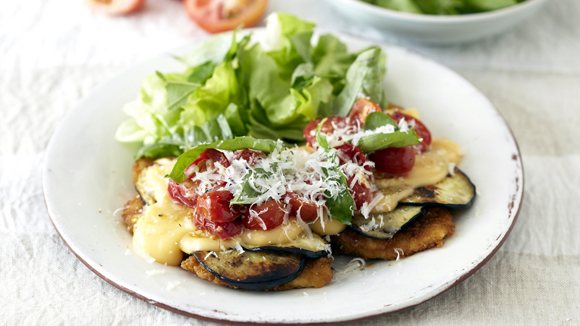 Chicken Schnitzels with a Cheesy Mediterranean Topping
Here's another quick and tasty way to cook up chicken schnitzels by topping them with grilled brinjal and a cheese sauce.
Recipe serves

4

Preparation time

5 minutes

Cooking time

45 minutes
Ingredients
30 ml lemon juice
Cooking oil
4 Crumbed chicken schnitzels
1 Small brinjal, cut into thin slices lengthwise
250 g Punnet cherry tomatoes, halved
1 Garlic clove, crushed
½ Cup Basil leaves
1 KNORR Creamy Three Cheeses Sauce
250 ml boiling milk
½ Cup Grated Parmesan cheese
Salad leaves, to serve
Method
Sprinkle salt over both sides of brinjal and leave to stand 10 minutes.
Rinse salt and juices off - this removes the bitter juice from the brinjal before cooking.
Preheat a griddle pan over medium heat.
Brush brinjal with oil and season then grill on the griddle pan for 5 minutes each side.
Remove to a plate and pour over lemon juice.
Bake or fry chicken schnitzels until done then set aside.
Place tomatoes in baking tray and top with garlic, salt and pepper and drizzle with a little oil.
Place under the grill for 7 minutes or until tomatoes are tender.
Prepare the KNORR Three Cheese Sauce using boiling milk and whisk well until smooth.
Place oven onto grill function
Place chicken schnitzel in a single layer onto an oven tray, arrange brinjal slices over and top with KNORR Three Cheese Sauce, basil, tomatoes and parmesan.
Grill for 5 minutes or until cheese is melted.
Serve with salad leaves.