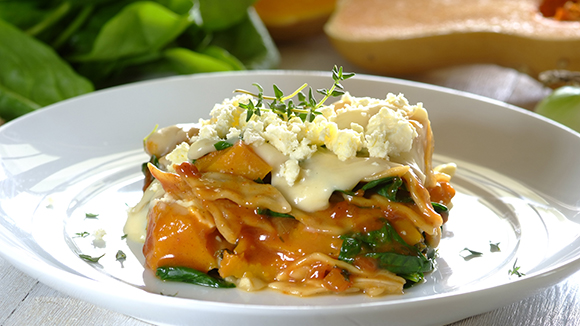 Spinach, Butternut and Feta Lasagne
Enjoy the natural goodness of spinach and butternut topped with feta cheese in this great tasting lasagne.
Recipe serves

4

Preparation time

10 minutes

Cooking time

40 minutes
Ingredients
1 KNORR Lasagne Mate Chicken Lasagne
400 ml Boiling water
300 g Butternut
1 Onion, chopped
300 g Spinach, chopped
15 ml Oil
600 ml Hot water
300 ml Feta cheese
Method
Empty the contents of the cheese sauce sachet into a jug, fill to 400 ml with boiling water and stir for 1 minutes.
Cube the butternut and microwave on high for 7 minutes.
In a large pan, fry the onion and spinach in oil.
Add the sachet of seasoning mix, 600 ml hot water, butternut and pasta (contained within the box of KNORR Lsagne Mate Chicken Lasagne) to the spinach.
Bring to the boil, stirring occasionally.
Reduce heat and simmer for 10 minutes.
Pour into a 2-litres oven dish.
Pour cheese sauce over and sprinkle with crumbled feta cheese.
Grill for 10 minutes or bake for 20 minutes at 180°C.