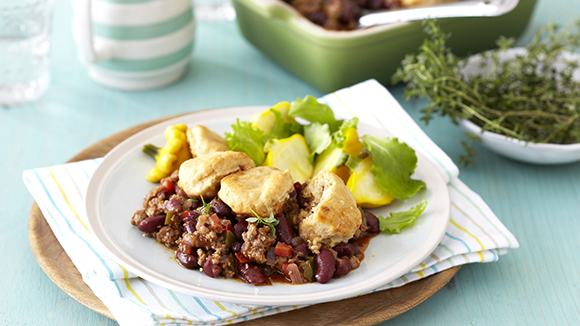 Savoury Mince and Bean Cobbler
If you thought a cobbler was only someone who mended shoes, you were wrong. This savoury cobbler is a delicious dish that will have all your guests kicking up their heels for more!
Recipe serves

4-5

Preparation time

25 minutes

Cooking time

60 minutes
Ingredients
500 Gram Beef mince
30 Millilitre oil
1 red onion, chopped
1 Red pepper, diced
1 Green pepper, diced
425 Gram Tin red kidney beans, drained
10 Millilitre Worcestershire sauce
½ Teaspoon Thyme
½ Teaspoon Marjoram
2 Millilitre Sugar
Salt and pepper
150 Gram Self raising flour
30 Gram Stork Margarine
1 sachet KNORR Spaghetti Bolognaise Dry Cook-in-Sauce
50 Gram cheddar cheese, grated
1 Egg, beaten
10 Millilitre Worcestershire sauce
25 Millilitre Water
Milk to glaze
Method
Heat the oil and fry the mince and onion until well browned.
Add the peppers and fry for 2 minutes.
Pour in KNORR Spaghetti Bolognaise Dry Cook-in-Sauce, beans, Worcestershire sauce, thyme, marjoram, sugar and seasonings.
Bring to the boil and pour into a casserole dish.
Cover and bake at 180°C for 20 mins.
While waiting, make the topping by sifting the self raising flour and rubbing it into the margarine and stirring in the cheese.
Blend the egg with water and Worcestershire sauce, add to flour mixture and using a knife, stir to form a soft dough.
Roll dough to 1cm thickness and cut into circles using a scone cutter.
Brush the top with a little milk and arrange around the edge of the casserole dish and bake uncovered for 35 minutes until golden brown.