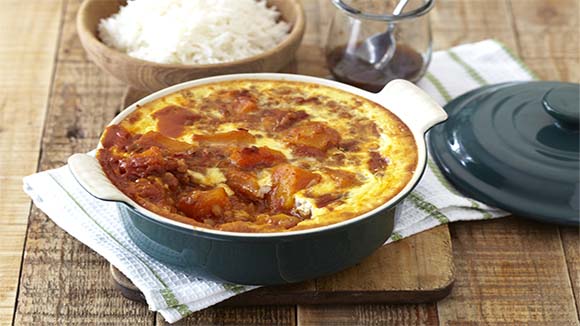 Lentil and Butternut Bobotie
Now here's a bobotie with a difference - made using butternut and lentils, this bobotie is a treat for weekday meals.
Recipe serves

4-6

Preparation time

10 minutes

Cooking time

90 minutes
Ingredients
1 Slice bread
100 Millilitre Milk
45 Millilitre Olive oil
2 Onions, chopped
500 Gram Butternut, cubed
4 Garlic cloves, crushed
5 Millilitre Chilli paste
5 Millilitre Curry powder
410 Gram Tin whole tomatoes
1 KNORR Roasted Vegetables Veggie Bake
250 Gram Brown lentils
4 Eggs
375 Millilitre Milk
2 Bay leaves
Method
Cover lentils with water and simmer for 45 minutes until soft.
Soak bread in milk and set aside.
Heat olive oil in a large pot and sauté the onions.
Add the butternut and cook covered over a medium heat for 5 minutes.
Add garlic, chilli paste, curry powder and bay leaves and lentils.
Add the tomatoes and KNORR Roasted Vegetables Veggie Bake and simmer for 15 minutes with the lid off.
Stir in soaked bread and mix well.
Place the mixture into a casserole dish and spread evenly.
Beat eggs with milk and pour over the lentil and butternut mixture.
Bake at 180°C for 45 minutes until the custard is set and brown.
Serve with basmati rice and chutney.