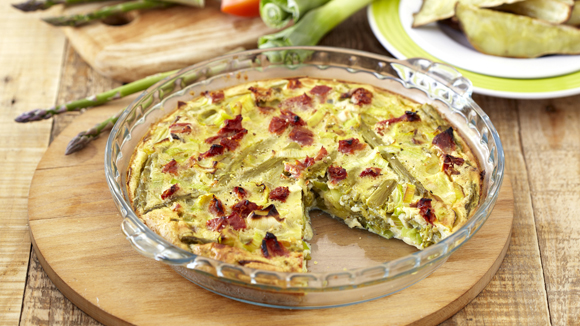 Leek and Asparagus Frittata with Sweet Potato Wedges
Make a frittata with a difference using asparagus, sundried tomatoes and leeks and serve with steaming hot sweet potato wedges
Recipe serves

4-6

Preparation time

10 minutes

Cooking time

35 minutes
Ingredients
30 ml Margarine
150 g Leeks, finely sliced
300 g Tinned asparagus, drained
30 ml Chopped sundried tomatoes
4 Eggs
1 sachet KNORR Chicken a'la King Dry Cook-in-Sauce
125 ml 2% low fat milk
Freshly ground black pepper to taste
1 kg Sweet potatoes, cut into wedges and roasted
Method
Preheat oven to 180°C.
Brush a pie plate or quiche dish with oil.
Melt margarine in a pan and add leeks.
Fry leeks for 2 min until they soften.
Combine leeks, asparagus and sundried tomatoes in a bowl and mix together.
Spread evenly into the prepared dish.
Whisk eggs, KNORR Chicken A la King sachet contents and milk together in a jug and season with black pepper.
Pour over the vegetables and bake in the oven for 30 min or until golden brown.
Serve with roasted sweet potato wedges.