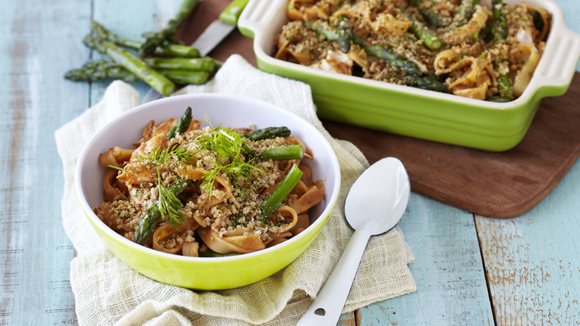 Tagliatelle Bake with Chicken and Asparagus
Treat your family to a balanced weekday meal made with pasta, chicken and asparagus
Recipe serves

4

Preparation time

5 minutes

Cooking time

30 minutes
Ingredients
300 g Tagliatelle
1 sachet KNORR Spaghetti Bolognaise Dry Cook-in-Sauce
300 ml low fat milk
5 ml Wholegrain mustard
300 g Barbecued chicken, skin removed and sliced
200 g Fresh Asparagus Spears, steamed
50 g Breadcrumbs
30 ml Chopped Italian flat leaf parsley
150 g Peas
Method
Preheat oven to 180˚C.
Cook tagliatelle pasta in unsalted water until al dente then drain and set aside.
Place KNORR Spaghetti Bolognaise Dry Cook-in-Sauce sachet contents in a saucepan together with milk and mustard.
Bring to the boil then reduce to a simmer and cook until thickened.
Add chicken and asparagus and mix together well.
Gently mix the sauce together with the tagliatelle and place in a baking dish.
Combine breadcrumbs and parsley and sprinkle over the pasta.
Bake in the oven at 180°C for 20 min until the crumbs are light golden brown.
Serve hot with a side serving of peas.