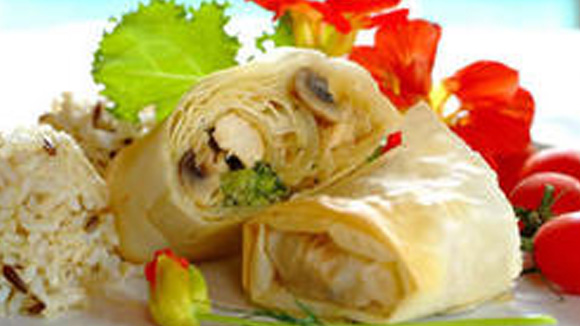 Chicken, Bacon and Vegetable Phyllo Parcels
Make a home-made strudel in under an hour using chicken, mushroom, broccoli, bacon, cheese and mushrooms in phyllo pastry parcels.
Recipe serves

4

Preparation time

10 minutes

Cooking time

45 minutes
Ingredients
45 ml Stork Margarine
1 Onion, chopped
130 g Assorted mushrooms, chopped
130 g Broccoli florets, cut small
400 g Chicken breasts, cubed
1 clove garlic, crushed
5 ml Thyme leaves
1 KNORR Chicken and Mushroom Pan Dry Cook-in-Sauce
200 ml low fat milk
100 ml water
125 ml Grated mozzarella cheese
100 ml Grilled and chopped weighless bacon
1 egg, beaten
8 Sheets phyllo pastry
Method
Preheat oven to 180°C.
In a griddle pan, melt half of the Stork margarine.
Add onion and sauté over medium heat until golden.
Add mushrooms and broccoli and cook until soft.
Add chicken, garlic and thyme.
Cook until chicken is brown.
Add KNORR Fresh Ideas Chicken & Mushroom Pan sachet contents, milk and water and cook for 20 min, stirring occasionally until thickened.
Mix in cheese, bacon and egg.
Melt the remaining Stork margarine.
Brush ½ phyllo sheet with some of the melted margarine.
Spoon ⅓ cup chicken mixture on narrow edge and fold in sides.
Roll up and place, seam side down, on a baking sheet.
Repeat with remaining sheets of pastry.
Brush the rolls with remaining margarine.
Bake for 20 min until golden brown.
Serve immediately with brown 200 g rice.