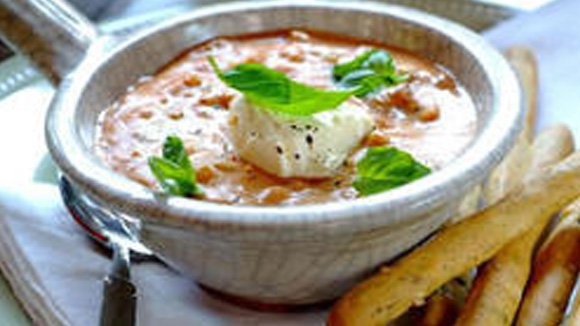 Creamy Tomato Soup with Barley and Basil
Made with the goodness of barley, this soup combines tomato and basil to give it a delicious flavour.
Recipe serves

4

Preparation time

5 minutes

Cooking time

25 minutes
Ingredients
125 ml Cream
400 ml Tomato paste
400 ml water
1 KNORR Savoury Mince Dry Cook-in-Sauce
130 g Barley, cooked
1 Garlic clove, crushed
4 Spring onions
1 Onion, chopped
15 ml Olive oil
1.3 kg Ripe tomatoes
125 ml Plain yoghurt
30 ml Finely chopped basil
1 Pinch Black pepper to taste
100 g Bread sticks
Method
Plunge tomatoes into boiling water for 1 min.
Remove and peel the skins, scoop out the seeds and discard them.
Chop the tomatoes.
Heat the oil in a large frying pan and add the onion, spring onion and garlic and cook for 3 min.
Add the tomatoes to the pan and cook for 6 min, stirring occasionally until the tomatoes have softened.
Stir in the barley, KNORR Fresh Ideas Savoury Mince sachet contents and 400 ml water, and simmer for 10 min.
Add tomato paste and bring to the boil.
Stir in cream, yoghurt and basil and season with black pepper.
Serve with an extra blob of yoghurt and shredded basil, with bread sticks on the side.