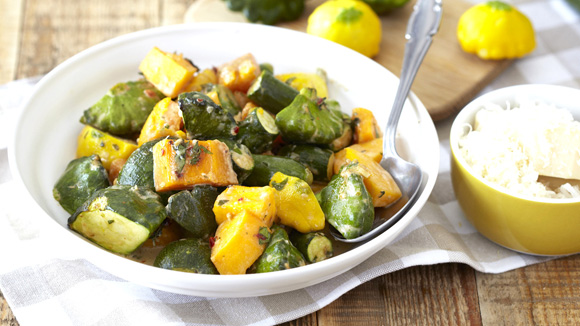 Baked Winter Squash with Garlic and Cream
If you're a vegetarian looking for dinner ideas, you have to try this easy, delicious vegetable dish made with an assortment of squashes.
Recipe serves

4

Preparation time

5 minutes

Cooking time

45 minutes
Ingredients
250 ml Cream
3 Garlic cloves, crushed
20 ml Fresh thyme, chopped
1 Pinch black pepper
1.5 kg Assorted squash (e.g. baby pumpkins, baby marrows, patty pans, cubed butternut etc.)
1 sachet KNORR Roasted Vegetables Veggie Bake
50 g Parmesan cheese
30 ml Parsley, chopped
Method
Preheat oven to 180°C.
Place mixed squash in an ovenproof dish and season with black pepper.
Mix the remaining ingredients together in a jug and pour over the assorted squash.
Bake for 40-45 min or until the squash are tender and the sauce has thickened.