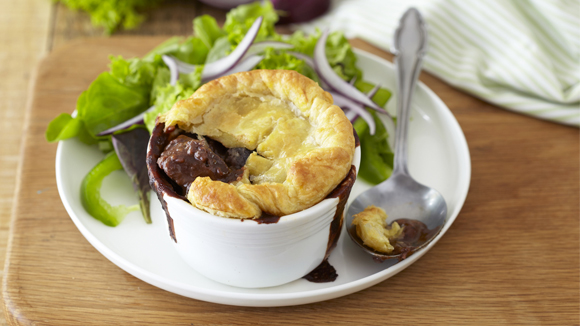 Classic Steak and Kidney Pie
Treat the family to this traditional steak and kidney pie, made with rich gravy and crispy pastry. Serve with roast vegetables.
Recipe serves

4

Preparation time

15 minutes

Cooking time

60 minutes
Ingredients
500 g Beef, cubed
500 g Lamb kidneys, cleaned and cubed
250 ml Red wine
50 g Flour
15 ml Oil
250 ml Water
1 KNORR Hearty Beef Stew with Rosemary Dry Cook-in-Sauce
400 g Roll puff pastry
1 Egg, lightly beaten
Method
Marinate the beef cubes and kidneys in the red wine, preferably overnight.
preheat oven to 200°C Dust the cubes with flour reserving the wine for later use.
Fry the cubes in oil to brown.
Add the KNORR Hearty Beef Dry Cook-in-Sauce, the reserved wine and water and simmer for 25-30 min.
Place in an ovenproof dish or 4 individual dishes.
Roll out the pastry and place over the mixture to create the top of the pie.
Brush with beaten egg.
Bake the pie at 200°C for 15 min or until golden brown.
Serve with mashed potato and vegetables.