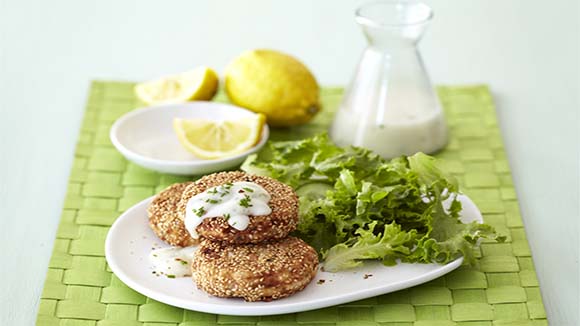 Sesame Crab Cakes with a Lemon Butter Sauce
Crab cakes have never been so easy to make or tasted this delicious!
Recipe serves

4

Preparation time

20 minutes

Cooking time

40 minutes
Ingredients
250 Millilitre Boiling water
125 Millilitre Oil
60 Millilitre Sesame seeds (optional)
1 Millilitre Freshly Ground Black Pepper
2 Millilitre Salt
2 Eggs, beaten
250 Millilitre Flour
60 Millilitre Red onion, very finely chopped
250 Millilitre Cold mashed potato
500 Millilitre Chopped crabsticks
10 Millilitre Butter
15 Millilitre lemon juice
1 sachet KNORR Classic White Sauce
15 Millilitre Finely chopped chives
Crisp green salad to serve
Method
Add the crab, potato, onions, 125 ml flour, lemon juice, eggs and pepper to a mixing bowl.
Stir well to combine.
Place remaining flour in a separate bowl or plate.
Shape mixture into 8 round patties, then coat with a mixture of remaining flour and sesame seeds.
Heat oil in a frying pan and fry the fishcakes for 10 min, turning once, or until golden brown.
Pour KNORR Classic White Sauce sachet contents into a measuring jug and fill up to the 250 ml mark with boiling water.
Add the lemon juice and butter and stir well with a fork for 1 minute until thick.
Stir in chives.
Serve the fish cakes with sauce and a crisp green salad.