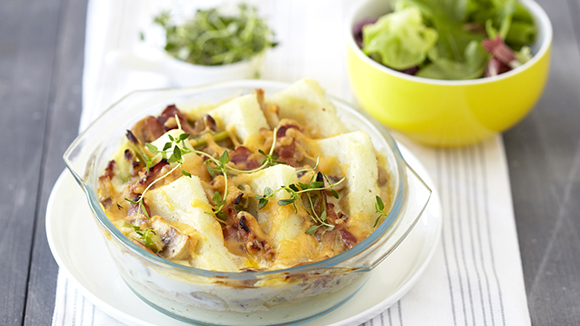 Creamy Bacon and Leek Pap Tart
In search of dinner ideas? This recipe calls for mouth-watering bacon, mushrooms, cream and cheese layered with flavoured pap - scrumptious!
Recipe serves

4-6

Preparation time

10 minutes

Cooking time

60 minutes
Ingredients
750 ml Water
1 KNORR Garlic and Herb Potato Bake
750 ml Maize meal
15 ml Oil
2 Leeks
4 Bacon rashers, chopped
100 g Button mushrooms, sliced
Salt and pepper to taste
250 ml Fresh cream
1 cup Cheddar cheese, grated
Method
In a pot, bring 500 ml to the boil, add KNORR Garlic and Herb Potato Bake and boil for another 2 minutes.
In a jug, add maize meal to the remaining 250 ml water and mix to form a smooth paste.
Add to the boiling water, stirring continuously to prevent lumps.
Reduce heat and cook for 20-30 minutes on medium heat, covered, stirring occasionally.
Remove cooked pap from the heat and pour into a large, flat baking dish and refrigerate until cold.
Preheat oven to 180°C.
In a pan, heat oil and fry leeks, bacon and mushrooms.
Add 125 ml cream to the bacon mixture and simmer for 2 minutes.
Slice the pap and layer half the quantity in an ovenproof dish.
Top with the bacon and mushroom mixture.
Sprinkle with half the cheese and season with salt and pepper.
Arrange the remaining slices of pap over the top, and pour cream over.
Sprinkle with remaining cheese.
Bake in a preheated oven for 40-45 minutes until the cheese is golden and bubbling.
Serve as a main meal or as a side serving.