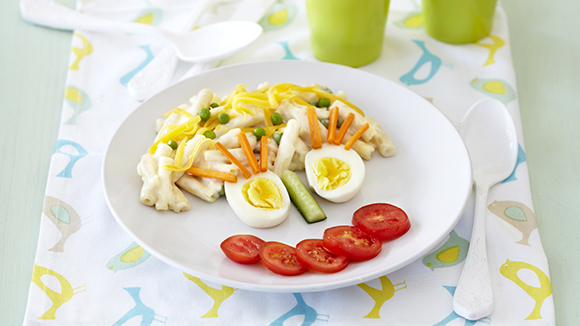 Fun Mac'n Cheese for Kids
Delight your kids with this mac and cheese dish using the vegetables to create a face on the plate.
Recipe serves

2

Preparation time

10 minutes

Cooking time

15 minutes
Ingredients
1 Hard-boiled egg, shelled and sliced lengthways
Cherry tomato slices
125 ml Cheese – 125 ml cheese, grated
125 ml Frozen peas – 125 ml
30 ml Stork Margarine – 30 ml
310 ml Water – 310 ml
125 ml Milk – 125 ml
1 packet KNORR Macaroni and Cheese Pasta and Sauce
Sticks of cucumber
Sticks of carrots
Method
Place the milk, water, Stork margarine and KNORR Macaroni Cheese Pasta & Sauce into a saucepan and bring to the boil, then simmer for 8-10 min until done.
Boil the frozen peas in a little water until cooked.
Add the peas and cheese to the cooked macaroni.
Make a face on the plate, using the macaroni as hair, the tomato slices as a mouth, the egg slices as eyes, carrot sticks as eye lashes and the cucumber as a nose.
You really can use your imagination on this one using sausages, fish fingers, tomato sauce, other vegetables and even fruit on the plate.