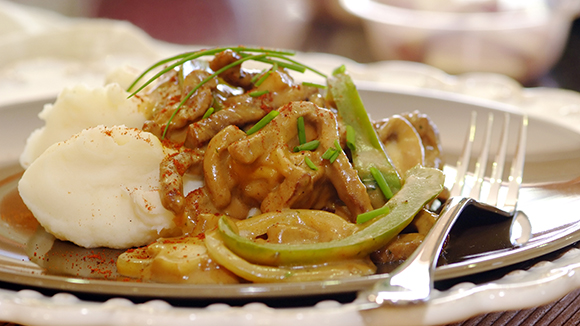 Creamy Beef Stroganoff
Treat your family to this Creamy Beef Stroganoff. It only takes 45 minutes to prepare and is certain to keep the taste buds satisfied!
Recipe serves

4

Preparation time

10 minutes

Cooking time

35 minutes
Ingredients
6 Chives, chopped
1 Pinch black pepper
500 ml Cold milk
50 ml Sherry (optional)
3 ml Robertsons Paprika
1 sachet KNORR Beef Stroganoff Dry Cook-in-Sauce
500 g Beef strips
100 g Sliced mushrooms
15 ml Oil
1 Onion, sliced into rings
1 Green pepper, sliced
Method
Fry beef strips and mushrooms in a splash of oil.
Add onion, green pepper and paprika and continue to fry until the onions are soft.
Add the sherry.
Mix sachet contents with 500 ml cold milk and add this to the beef mixture.
Bring to the boil, stirring often.
Cover and simmer for 30 minutes or until beef is tender.
Season with black pepper and sprinkle with chives.