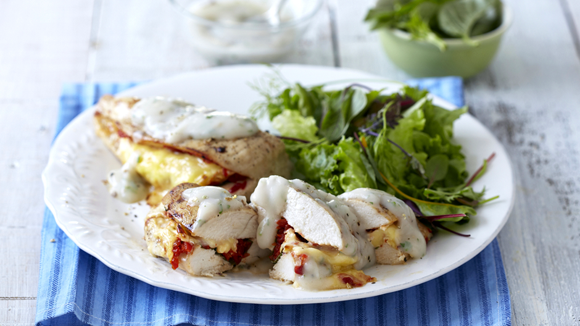 Baked Chicken Breasts Stuffed with Brie and Basil
This is one of those chicken breast recipes that you'll be making again and again. The combination of basil and brie is a special treat!
Recipe serves

4

Preparation time

20 minutes

Cooking time

30 minutes
Ingredients
6 Chicken breasts, skinless and de-boned
1 Pinch Salt and pepper to taste
100 g Brie cheese, thinly sliced
250 ml Basil leaves, whole
150 ml Piquant peppers, finely chopped
15 ml olive oil
1 KNORR Creamy Mushroom Sauce
250 ml boiling water
20 ml Chopped fresh Italian flat leaf parsley
Method
Preheat oven to 180°C Using a sharp knife, cut into the thickest section of each breast to form a pocket, without cutting right through.
Season the cavity with salt and pepper.
Place a slice of cheese, basil and piquant peppers inside each breast cavity.
Do not stuff it too full. Place the chicken breast onto a baking tray and drizzle with olive oil.
Bake in a preheated oven for 200°C 30 min until the chicken is cooked and the filling has started to melt.
Empty sachet contents into a jug.
Fill up to 250 ml mark with boiling water.
Stir with a fork for a minute until thick and smooth.
Stir in parsley.
Pour sauce over the chicken breasts and serve.