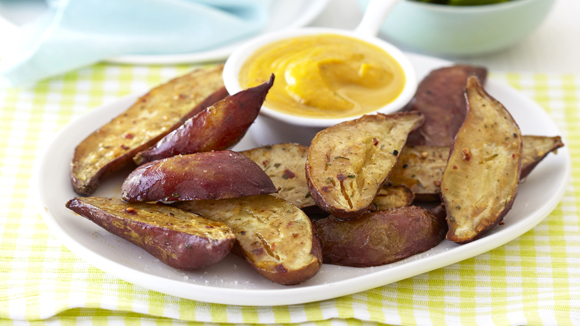 Roast Potato Wedges with a Creamy Butternut Dip
If you're looking for something different as a snack when entertaining then try this delicious butternut dip with sweet potato wedges.
Recipe serves

4-6

Preparation time

5 minutes

Cooking time

45 minutes
Ingredients
150 ml water
500 g Sweet potato or potatoes
100 ml Cream
1 KNORR Roasted Vegetables Veggie Bake
3 ml Ground nutmeg
300 g Butternut
45 ml Olive oil
Method
Preheat oven to 180˚C
Peel the butternut and cut into chunks.
Place butternut into 150 ml water and add the nutmeg.
Bring to the boil, cover and simmer for about 10 min until butternut is tender.
Turn occasionally to ensure even cooking.
Drain the squash well and allow to cool slightly.
Puree for a few seconds until smooth.
Pour in half the contents of the KNORR Roasted Vegetables Veggie Bake together with the cream.
Cut the sweet potato into wedges; sprinkle the remaining half of the sachet contents over them.
Arrange on a baking tray and drizzle with olive oil.
Bake at 180°C for about 30-45 min until well roasted and soft in the centre.
Serve the dip with roasted sweet potato wedges.