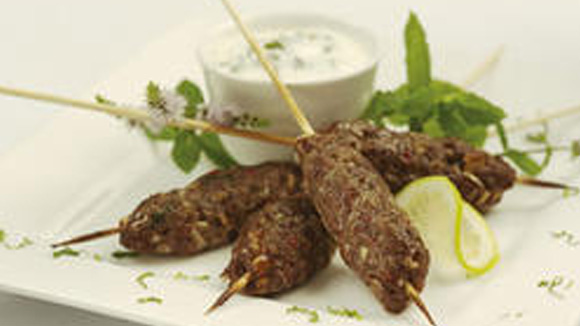 Ostrich Kofta Kebabs with Minted Yoghurt
Ostrich is a healthy meat option and combined with chilli, mint, lemon and the fresh taste of yoghurt, these koftas are a true treat.
Recipe serves

4

Preparation time

15 minutes

Cooking time

20 minutes
Ingredients
250 Millilitre Plain yoghurt
15 Millilitre Oil for frying
35 Millilitre Fresh mint, chopped
1 Red chilli, seeded and finely chopped
1 Onion, finely chopped
500 Gram Ostrich mince
100 Millilitre water
1 KNORR Homestyle Meatball Kebabs Dry Cook-in-Sauce
5 Millilitre lemon juice
Method
Empty contents of KNORR Home-style Meatball Kebabs Dry Cook-in-Sauce sachet into a bowl and mix with 100ml water.
Add ostrich mince, finely chopped onion, chillies and 25 ml mint, and mix well with a fork.
Form a sausage shape with a handful of mince and push a bamboo skewer through the length of the sausage.
Grill or fry in shallow, hot oil (about 1 cm deep is fine) until cooked.
Prepare minted yoghurt sauce by mixing yoghurt, 10 ml mint and lemon juice.
Mix well and serve as a dipping sauce for the ostrich koftas.