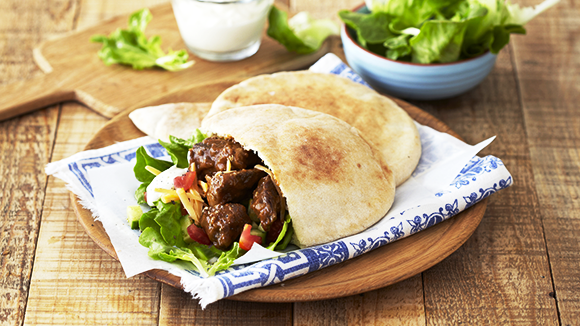 Pita Pockets with Lemony Lamb and Sour Cream
Try this delicious lamb pita flavoured with lemon, garlic and onion and topped with sour cream and cheese.
Recipe serves

4

Preparation time

15 minutes

Cooking time

30 minutes
Ingredients
200 ml cold water
25 ml lemon juice
3 ml Garlic
500 g Lamb, cubed
15 ml oil
4 Pita pockets
100 ml Sour cream
1 Sachet KNORR Savoury Mince Dry Cook-in-Sauce
1 Red onion, sliced
400 ml Shredded lettuce
1 Tomato, finely chopped
125 ml Cucumber, diced
200 ml grated Cheddar cheese
Method
In a large pan fry lamb, onion and garlic in oil until the lamb is browned, then add lemon juice.
Mix the sachet contents with 200 ml cold water, add to the lamb and allow it to thicken.
Place shredded lettuce, tomatoes and cucumber into a pita pocket and fill with lamb cubes.
Serve with a dollop of sour cream and sprinkle with grated cheese.