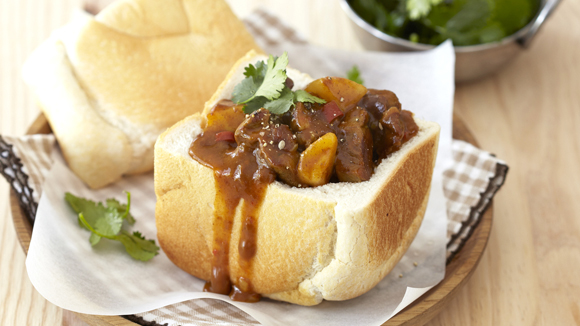 Bunny Chow with Mutton and Peas
This Indian delight is full of aroma and flavour and is a delicious, hearty dish to add to your winter meal planner.
Recipe serves

4

Preparation time

20 minutes

Cooking time

75 minutes
Ingredients
15 ml oil
1 Onion, chopped
500 g Mutton, cubed
5 ml Curry powder
2 Chillies, seeded and finely chopped
3 Potatoes, cubed
125 ml frozen peas
1 KNORR Mild Durban Curry Dry Cook-In-Sauce
400 ml water
1 Loaf of bread cut into quarters
250 ml Fresh coriander leaves for garnish
Method
Sauté chopped onion in oil, add meat and brown.
Add curry powder and chillies and continue frying.
Add potatoes and peas.
Mix sachet contents with 400 ml cold water.
Pour over the browned meat and veggies.
Bring to the boil, stirring often.
Cover and simmer for 45 min for meat on the bone or 1 hour for meat cubes (without bone).
Slice a loaf of bread into quarters and hollow out the soft bread in the middle to make a cavity to pour the curry into.
Place the bread which was removed on the top of the bunny and serve with sambals.
Garnish with Coriander.