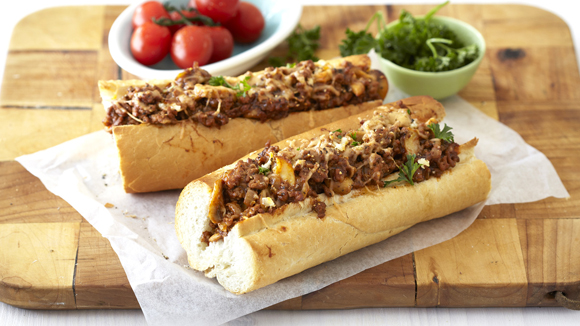 French Loaf with Cheesy Mince and Mushrooms
Instead of ordering take-out, make this spicy sub in the comfort of your own kitchen as a treat for your family.
Recipe serves

6

Preparation time

15 minutes

Cooking time

40 minutes
Ingredients
250 Millilitre grated Cheddar cheese
1 Onion, chopped
15 Millilitre oil
500 Gram Mince
250 Gram Mushrooms
1 Red chilli, seeded and finely chopped
1 KNORR Spaghetti Bologanise Dry Cook-in-Sauce
400 Millilitre cold water
50 Millilitre Fresh coriander, roughly chopped
1 French loaf
5 Millilitre Crushed garlic
Method
Sauté onion in a splash of oil, toss in mince and brown.
Add mushrooms and chilli and fry for a further 5 min.
Mix sachet contents with 400 ml cold water and pour over mince.
Bring to the boil, giving it a stir often, then simmer for about 10 min.
Add chopped coriander.
Cut the French loaf lengthways, hollow out a little of the soft bread and fill with the mince mixture.
Top with crushed garlic and grated Cheddar cheese.
Place under the grill until the cheese is bubbling and golden brown.