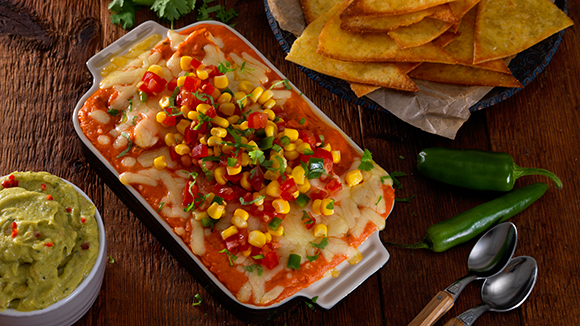 Chilli Chicken Dip
This chilli chicken dip recipe is hugely satisfying. Knorr Chicken Stock Pot, tomatoes and red onions form a flavoursome base, with jalapeño peppers for extra spice. Succulent chicken and cheese are then added to complete this indulgent dip recipe.
Recipe serves

4

Preparation time

15 minutes

Cooking time

20 minutes
Ingredients
15 ml Stork Margarine
1 Red onion, chopped
1 Large jalapeno, seeded and chopped
4 Plum tomatoes, chopped and blended
1 Knorr Chicken Stock Pot
200 ml Cream cheese
2 Skinless chicken breasts, roasted and cut into cubes
200 g Cheddar cheese, grated
100 g Cream cheese
1 Green pepper, seeded and diced
Method
Heat the Stork Margarine in a saucepan. Add the red onion and jalapeno and cook on medium heat for 8-10 minutes, until onions start to brown. Set aside.
In a small saucepan, add the blended tomatoes and Knorr Chicken Stock Pot. Heat gently for 3-4 minutes, until stock pot is dissolved. Add in the onion and jalapeno mix and cook for 5 minutes on medium heat until sauce starts to thicken.
Stir in the chicken, cream cheese and Cheddar cheese and mix well.
Spoon into a warm serving bowl and sprinkle with the diced green peppers.
Serve with pitta bread or nacho chips.