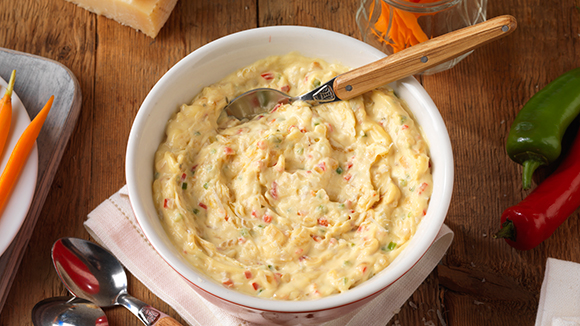 Chilli Cheese Dip
A creamy, indulgent chilli cheese dip recipe. The Knorr Vegetable Stock Pot ensures maximum flavour, whilst cream cheese, Cheddar cheese and mascarpone add a rich texture. A hearty appetiser that everyone will love.
Recipe serves

4

Preparation time

15 minutes

Cooking time

20 minutes
Ingredients
15 ml Olive oil
1 Small onion, finely chopped
2 Cloves garlic, chopped
4 Red chillies, seeded and finely chopped
5 Jalapenos, finely chopped
1 Knorr Vegetable Stock Pot
200 ml Cream cheese
100 ml Mascarpone
100 g Parmesan, grated and divided
50 g Cheddar cheese, grated
5 ml Robertsons Black Pepper
Method
Heat the oil in a large frying pan. Add the onions and cook on medium heat for 3-4 minutes, until the onion starts to soften. Add the garlic, chillies and jalapenos. Cook for 3-5 minutes until vegetables are golden and starting to brown. Turn to low heat.
Add the Knorr Vegetable Stock Pot, cream cheese and mascarpone to the pan and heat gently, stirring constantly for 4-5 minutes. Add 80 g of the Parmesan and all of the Cheddar cheese. Heat sauce through for another 5 minutes, until the cheese has melted and sauce has reduced slightly. Season with black pepper.
Pour sauce into a serving bowl and serve warm and sprinkle with remaining Parmesan (or Cheddar), or for a firmer spreadable dip, chill in the refrigerator for 1 hour.
Serve with crackers, crusty bread or crunchy carrot sticks.