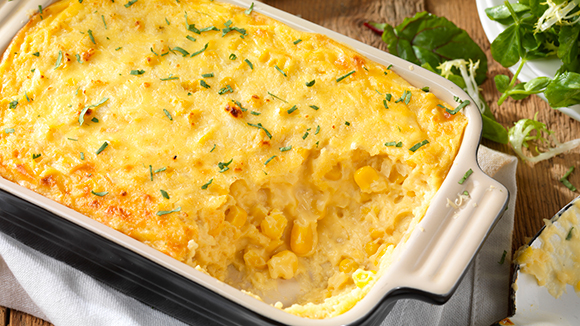 Corn Casserole
This corn casserole recipe is a great crowd-pleaser. The Knorr vegetable stock and coriander gives the corn a bold, fresh and delicious taste. Finish with grated cheese for the perfect, soft crunch.
Recipe serves

6

Preparation time

10 minutes

Cooking time

45 minutes
Ingredients
60 ml Stork Margarine
1 Knorr Vegetable Stock Pot
1 Small onion, chopped
2 Cloves crushed garlic
80 ml Plain flour
500 ml Hot low-fat milk
400 g Sweetcorn
4 Egg yolks
50 g Grated Parmesan cheese (or Cheddar)
30 ml Chopped coriander
Method
Preheat oven to 180°C.
Heat the Stork Margarine in a large saucepan. Add the Knorr Vegetable Stock Pot and cook on low heat for 2-3 minutes until the stock melts. Add the onion and cook on medium heat for 4-6 minutes, until the onion starts to soften. Add the garlic and cook for a further 3 minutes. Stir in the flour and cook for 2 minutes on low heat, stirring all the time, until flour is well combined.
Pour in the milk, a small amount at a time, continuously whisking to make a smooth sauce. Add the corn and egg yolks and mix well. Simmer over low heat for 10 minutes, stirring constantly until sauce starts to thicken. Pour into a casserole dish. Sprinkle with Parmesan (or Cheddar).
Bake for 20 minutes, until golden and bubbling. Sprinkle with coriander and serve.