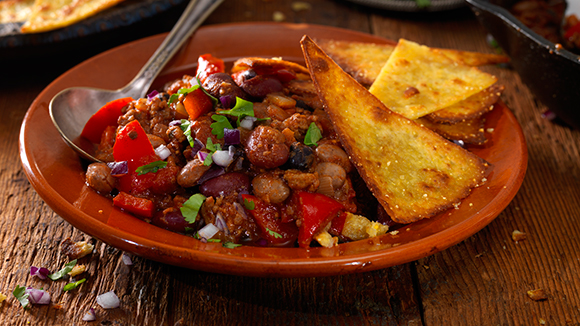 Chilli Beans
A warming, hearty chilli beans recipe. Kidney beans are cooked with tomatoes and a Knorr Vegetable Stock Pot for maximum flavour, before adding chillies and garlic for the spicy kick. Serve with sour cream and coriander.
Recipe serves

4

Preparation time

15 minutes

Cooking time

40 minutes
Ingredients
45 ml Olive oil
2 Onions, chopped
3 Cloves crushed garlic
2 Red chillies, seeded and finely chopped
2 Green chillies, seeded and finely chopped
1 Knorr Vegetable Stock Pot
15 ml Tomato paste
10 ml Chilli Powder
400 g Tin red kidney beans, drained and rinsed
400 g Tin chopped tomatoes
250 ml Water
2 ml Robertsons Black Pepper
60 ml Sour cream
30 ml Chopped coriander
Method
Heat the oil in a large saucepan. Add the onion and cook for 4-5 minutes on medium heat until softened but not brown. Add the garlic, red chillies and green chillies and cook for a further 4-5 minutes, until onions starts to brown.
Add the Knorr Vegetable Stock Pot, tomato paste and chilli powder. Cook for 2-3 minutes, stirring well.
Add the kidney beans, tomatoes, water and black pepper. Stir well, bring to the boil then simmer on a low heat for 15-20 minutes, until sauce starts to thicken.
To serve, top with sour cream and sprinkle with coriander.
Serve with steamed rice and a creamy guacamole.