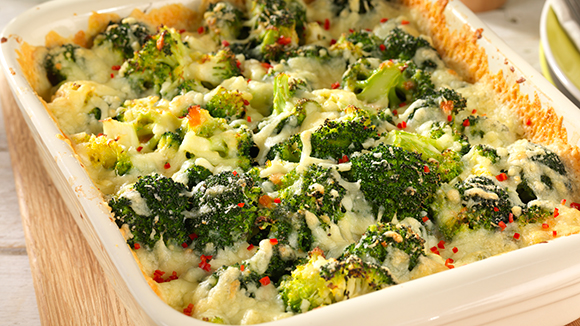 Broccoli Casserole
This satisfying broccoli casserole recipe is perfect for feeding a group of people. Milk, mayonnaise, Knorr Vegetable Stock and Cheddar cheese are added to the broccoli, then topped with breadcrumbs and cheese for a deliciously rich flavour.
Recipe serves

6

Preparation time

20 minutes

Cooking time

35 minutes
Ingredients
250 ml Water
700 g Broccoli, cut into florets
1 Knorr Vegetable Stock Pot
200 ml Low-fat milk
100 ml Mayonnaise
2 Eggs, lightly beaten
150 g Grated Cheddar cheese, divided
100 g Breadcrumbs
Method
Preheat oven to 180°C.
Place water in large saucepan, add broccoli and bring to the boil. Reduce heat and simmer for 8-10 minutes, until the broccoli is almost cooked but still crunchy. Drain and set aside.
Place the Knorr Vegetable Stock Pot, milk, mayonnaise, eggs and two thirds of the grated cheese in a medium size pan over very gentle heat. Stir continuously. Remove from heat once the cheese melts. Add in the broccoli and turn with a spoon until broccoli is covered with the mixture then pour into a large oven proof dish. Sprinkle with remaining cheese and breadcrumbs and bake for 15-20 minutes.
For a great tasty variation try adding 15 ml of Rajah Curry Powder with the Knorr Vegetable Stock Pot, mayonnaise, eggs and grated cheese and mix well.