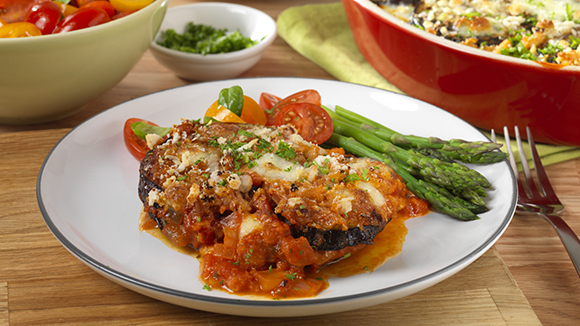 Brinjal Bake
This brinjal bake is easy to cook and packed with flavour. The brinjals are covered with a sauce made with onions, garlic, herbs, Knorr Vegetable Stock Pot and Parmesan cheese. The dish is then topped with Mozzarella and baked until golden brown.
Recipe serves

4

Preparation time

10 minutes

Cooking time

90 minutes
Ingredients
3 Large brinjals, sliced 1cm thick
30 ml Olive oil, divided
1 Onion, finely chopped
2 Garlic cloves, crushed
15 ml Roberstons Origanum
1 x 400g Tin plum tomatoes
1 Knorr Vegetable Stock Pot
1 Large handful fresh basil, roughly chopped
80 g Parmesan cheese (or Cheddar), grated
80 g Dried breadcrumbs
200 g Mozzarella cheese
Method
Preheat the oven to 180°C.
Heat half of the oil in a large frying pan, over medium-high heat and fry the brinjal slices for 2 minutes on each side, until golden. Set aside.
In a saucepan, heat the remaining oil over medium heat. Add the onion and cook for 3 minutes, until softened. Add the garlic and Roberstons Origanum and cook for a further 2 minutes. Add the tomatoes and Knorr Vegetable Stock Pot and simmer for 30 minutes. Stir in the fresh basil and Parmesan.
In baking dish, layer the brinjals on the bottom, followed by the tomato sauce. Repeat until the brinjals and sauce are all used.
Top the bake with Mozzarella and breadcrumbs.
Bake for 30 minutes, until golden and bubbling.
Serve with a fresh green salad.