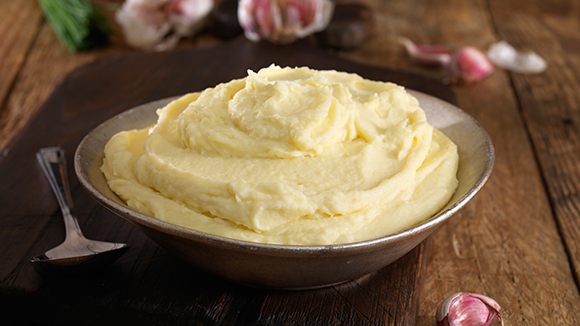 Garlic Mashed Potatoes
Garlic mashed potatoes are the perfect accompaniment to roast dinners. This smooth, buttery mash is made great by mixing with garlic, black pepper and Knorr Vegetable Stock Pot. A great side dish that bursts with flavour.
Recipe serves

6

Preparation time

10 minutes

Cooking time

20 minutes
Ingredients
1.5 kg Floury potatoes, peeled and chopped
6 Cloves garlic, crushed
500 ml Low fat milk
1 Knorr Vegetable Stock Pot
50 g Stork Margarine
10 ml Robertsons Course Black Pepper
Method
Cover the potatoes with water in a large pot. Bring to the boil and then simmer for 15 minutes on medium heat, until potatoes are tender. Drain well. Return potatoes to the pot and leave to stand.
Meanwhile, heat the milk gently on low heat in a small saucepan. Add the Knorr Vegetable Stock Pot and garlic and stir until pot has melted.
Mash the potatoes until very smooth, without lumps.
Add the milk, Stork Margarine and Robertsons Course Black Pepper and mash really well.