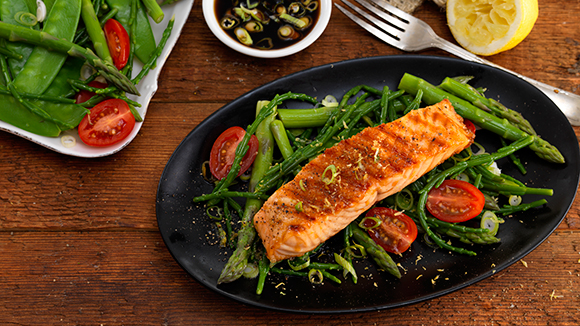 Grilled Salmon
Try this quick and simple grilled salmon recipe. The salmon is rubbed with Knorr Vegetable Stock Pot, olive oil, lime and lemon juice and then grilled to perfection. The stock rub is such an easy process and adds so much flavour.
Recipe serves

2

Preparation time

35 minutes

Cooking time

25 minutes
Ingredients
30 ml Olive oil, divided
1 Knorr Vegetable Stock Pot, crumbled
1 Lime, zest and juice
1 Lemon, zest and juice
2 Salmon fillets
30 ml Reduced salt soy sauce
15 ml Japanese mirin (or rice wine)
5 ml Castor sugar
12 Asparagus, trimmed
1 Spring onion, finely chopped
30 ml Chopped coriander
Method
Preheat the oven to 180°C.
Mix together 1 tablespoon of olive oil, Knorr Vegetable Stock Pot, lemon juice and lime juice. Rub into salmon fillets and leave for 15 minutes.
For the dressing, in a small bowl, combine the lemon zest, lime zest, soy, mirin and sugar. Stir to dissolve and set aside.
Place the asparagus onto an oven tray and drizzle with remaining oil. Place the salmon on another baking tray.
Roast the asparagus for 10 minutes and the salmon for 12-15 minutes, until cooked.
Add spring onions and coriander to the dressing and drizzle over the salmon to serve. Serve topped with extra spring onions and coriander.