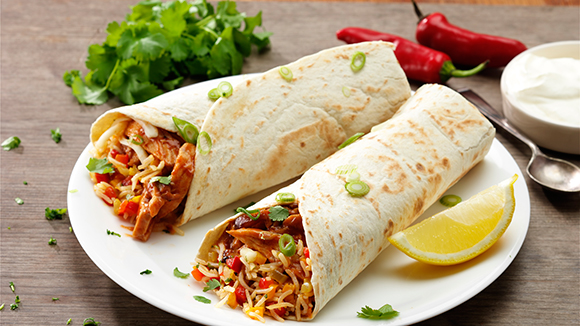 Chicken Burritos
This chicken burritos recipe is quick and easy to make and bursting with flavours. Just quickly mix the rice with sautéed spring onions, peppers, chillies and celery. The Knorr Chicken Stock Pot and BBQ sauce add great flavour kicks.
Recipe serves

4

Preparation time

20 minutes

Cooking time

15 minutes
Ingredients
30 ml Olive oil
4 Spring onions, finely chopped
1 Red pepper, finely diced
1 Red chilli, seeded and finely diced
2 Cloves garlic, crushed
1 Stick Celery, finely diced
5 ml Robertsons Cumin
15 ml Robertsons Paprika
200 g Long grained rice, cooked according to instructions on the packet and left cold for 2 hours or more
Zest and juice of 2 lemons
½ Roasted chicken, shredded and picked
1 Knorr Chicken Stock Pot
10 ml BBQ sauce
4 Large tortillas
45 ml Chopped coriander
60 g Grated Cheddar cheese
Method
Heat the olive oil in a large frying pan. Add the spring onions, peppers, chillies, garlic and celery. Cook on medium heat for 3-4 minutes until the vegetables start to soften but do not brown.
Add the Robertsons Cumin and Roberstons Paprika and mix well on medium heat.
Add the cooked rice, the lemon zest and lemon juice. Shake the pan well so that the rice and vegetables mix together really well.
In a separate bowl, mix the shredded chicken with the Knorr Chicken Stock Pot and BBQ sauce.
Heat the tortillas in a large dry frying pan on medium heat for 1-2 minutes until they soften up.
Place the flour tortillas flat, one on each plate and fill with the rice and vegetables. Top each with a quarter of the shredded chicken. Sprinkle with chopped coriander and grated cheese. Roll up the flour tortilla, folding in the sides.
Serve with natural yogurt and hot chilli sauce or with sour cream and extra chopped coriander.