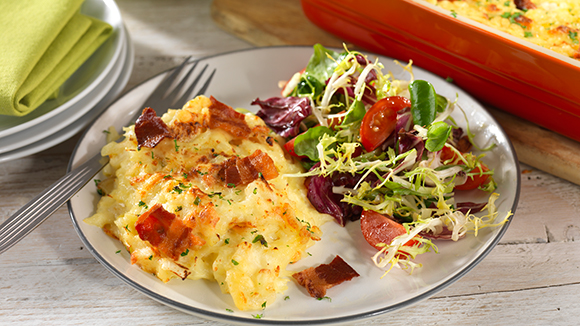 Hash Brown Casserole
Find out why this dish is so popular in America. This hash brown casserole recipe uses grated potatoes, cheese, chillies, peppers, chicken stock and milk. It's a comforting and filling dish topped with bacon, and makes a great breakfast or brunch.
Recipe serves

4

Preparation time

15 minutes

Cooking time

50 minutes
Ingredients
15 ml Olive oil
1 Red onion, cut into quarters
1 Red pepper, deseeded and cut in half lengthways
1 Yellow pepper, deseeded and cut in half lengthways
2 Red chillies, deseeded and cut in half lengthways
200 ml Low-fat milk
1 Knorr Chicken Stock Pot
6 Large potatoes, peeled and blanched
120 g Grated, low fat mild Cheddar cheese
2 Rashers bacon, diced
30 ml Stork Margarine
1 Bunch chopped parsley
Method
Preheat the oven to 160°C.
Place red onion, peppers and chilli on baking tray, drizzle with olive oil and roast for 10-15 minutes until skins start to blacken. Remove from oven, leave to cool slightly, remove skins and chop. Set aside.
In separate small saucepan add milk and Knorr Chicken Stock Pot. Heat gently to dissolve the stock pot, stir well and remove from heat once stock is melted. Set aside.
Grate the blanched potatoes into a large bowl, add the Stork Margarine and mix well. Pour in the milk and stock mixture. Add the chopped onions, peppers and chillies. Add half of the grated cheese and mix through well.
Place the mixture in a medium sized casserole dish and cover with remaining grated cheese. Place in oven and cook for 15-20 minutes until the potato is cooked through and the cheese is starting to brown.
Heat a non-stick pan, add the bacon and cook for 5 minutes until cooked. Sprinkle the cooked bacon over the top of the casserole to serve.
Serve with salad as a great brunch or with scrambled eggs, sausages and tomatoes for a full breakfast that will set you up for the day.