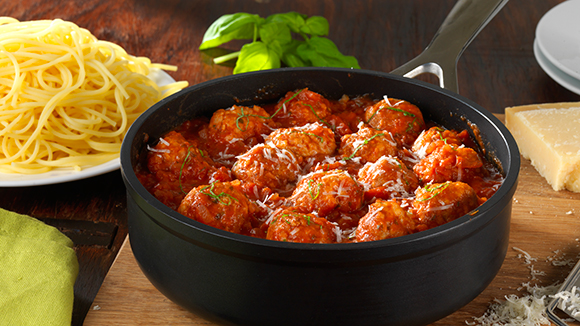 Turkey Meatballs
These turkey meatballs are quick, easy and packed with taste. The mince is rolled into meatballs with breadcrumbs, eggs and cheese. These are then cooked gently with onions, tomatoes and Knorr Chicken Stock Pot.
Recipe serves

4

Preparation time

10 minutes

Cooking time

40 minutes
Ingredients
1 Onion, chopped
1 Stalk celery, chopped
30 ml Olive oil
30 ml Fresh thyme leaves, chopped, divided
2 x 400 g Tins chopped tomatoes
800 ml Water
1 Knorr Chicken Stock Pot
5 ml Castor sugar
3 ml Robertsons Black Pepper
500 g Turkey mince
1 Egg, lightly beaten
45 ml Breadcrumbs
45 ml Grated Parmesan or grated Cheddar
Method
Using a food processor, blend together the onion and celery until finely chopped.
Heat the olive oil in a large saucepan over medium-high heat. Add the onion and celery mix, 1 teaspoon of thyme and cook for 8 minutes, until vegetables have softened and have browned slightly.
Add tinned tomatoes, water, Knorr Chicken Stock Pot, sugar and Robertsons Black Pepper. Bring to the boil, simmer on low for 10 minutes, stirring occasionally. Meanwhile make the meatballs.
In a large bowl add the turkey mince, egg, breadcrumbs, Parmesan and remaining thyme. Mix just to combine. Roll into 12 meatballs.
Gently place meatballs into your simmering sauce, and leave for 20 minutes, or until cooked through. Serve on rice or pasta.