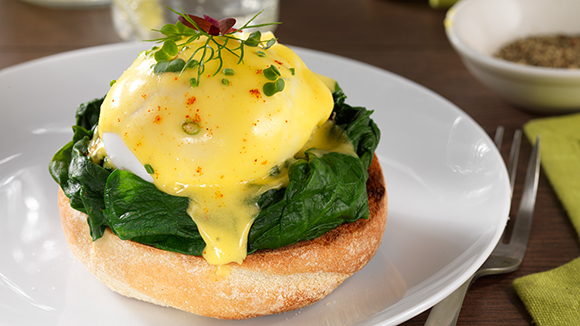 Eggs Florentine
A perfect weekend breakfast or brunch. This Eggs Florentine consists of poached eggs and spinach, cooked with Knorr Vegetable Stock Pot and served on a toasted muffin with dollops of velvety hollandaise sauce. A classic, easy dish that tastes great.
Recipe serves

4

Preparation time

5 minutes

Cooking time

15 minutes
Ingredients
150 g Baby spinach
250 ml Water
1 Knorr Vegetable Stock Pot
2 Fresh English muffins, halved and toasted
4 Medium eggs
150 g Stork Margarine
3 Egg yolks
15 ml White wine vinegar
15 ml Chopped parsley to garnish
Method
Place spinach in large pan on medium high heat, 1 tablespoon water and Knorr Vegetable Stock Pot. Cook for 2 minutes until nicely wilted, then place on kitchen paper and keep warm.
Cut the muffins in half and toast under the grill until lightly golden brown.
Poach 4 eggs in an egg poacher.
Arrange the toasted muffin halves on four warmed plates. Top each one with ¼ of the dried warm spinach and 1 poached egg.
Heat a pan of water to a gentle simmer. Put the Stork Margarine, egg yolks and the white wine vinegar in a heatproof glass or stainless steel bowl over hot water and start whisking together. The bowl shouldn't touch the water beneath it.
Keep on whisking until it gets to the consistency you want – this will take about 5 minutes. When the whisk leaves a 'trail' in the sauce, that's when it's cooked. Pour the sauce over the eggs, garnish with chopped parsley and serve immediately.