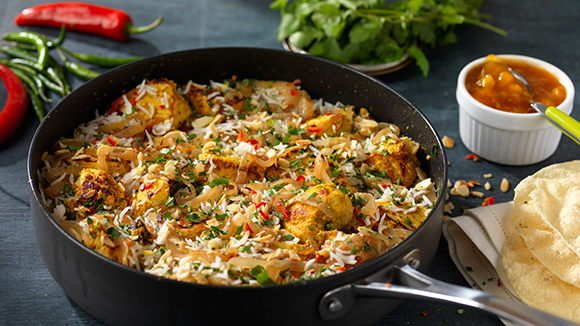 Chicken Biryani
A popular Indian dish of juicy chicken marinated in warm spices. Traditionally prepared for large crowds, this delicious chicken biryani recipe is made super tasty by being gently cooked with chicken stock, garlic, chillies and spices.
Recipe serves

4

Preparation time

40 minutes

Cooking time

40 minutes
Ingredients
2 Skinless chicken breasts, chopped
1 Knorr Chicken Stock Pot
4 Cloves crushed garlic
2 Green chillies, seeded and chopped
30 ml Freshly grated ginger
15 ml Lemon juice
2 Pods cardamom
5 ml Robertsons Turmeric
5 ml Garam masala
15 ml Mayonnaise
30 ml Low fat natural yoghurt
15 ml Vegetable oil
2 Large onions, very finely chopped
30 ml Freshly chopped coriander
30 ml Freshy chopped mint
250 g Basmati rice, cooked according to packet instructions
30 ml Toasted almonds
Method
In a large bowl, mix the chicken with the Knorr Chicken Stock Pot, chopped garlic, chilli, ginger, lemon juice, cardamom pods, turmeric, garam masala, mayonnaise and natural yoghurt. Set aside to marinate for 20-30 minutes.
Heat the vegetable oil in a large frying pan. Add the onions and cook on a medium heat for 6-8 minutes until brown but not crisp. Remove the onions from the pan and set aside.
In the same frying pan, add the marinated chicken and all of the marinade. Add half of the coriander, half of the mint and half of the fried onions and cook gently on medium heat for 4-6 minutes. Remove from heat, cover the chicken with half of the cooked rice. Sprinkle the remaining fried onions, coriander and mint over the rice. Add toasted almond flakes. Cover and cook on very low heat for 15-20 minutes.
Remove from heat, add the other half of the cooked rice, mix the rice and to serve.