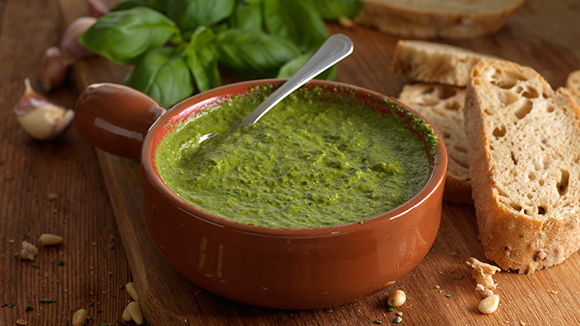 Pesto
Bursting with fresh flavour, this quick and simple pesto recipe uses fresh basil leaves, pine nuts, grated cheese and freshly squeezed lemon juice for a sharp yet smooth sauce. A great way to add colour and flavour to any pasta or chicken dish.
Recipe serves

4

Preparation time

10 minutes

Cooking time

25 minutes
Ingredients
1 ½ tbsp Olive oil, divided
1 Knorr Vegetable Stock Pot
15 ml Freshly squeezed lemon juice
4 Cloves garlic
600 g Fresh basil leaves
40 g Pine nuts
40 g Freshly grated Parmesan cheese (or Cheddar cheese)
Method
Heat 1 tablespoon of olive oil in a small non-stick pan. Reduce heat to low, add the Knorr Vegetable Stock Pot and stir well until stock pot is melted. Remove from heat, add lemon juice, stir well and leave to cool for 10-15 minutes. Set aside.
Finely chop the garlic, pine nuts and basil leaves. Combine in small bowl with the Parmesan cheese, add cooled olive oil and stock pot mixture, stir well. Add remaining olive oil, stir again and leave to chill in fridge for at least 30 minutes before serving.
Please note: this recipe requires 30mins chill time.