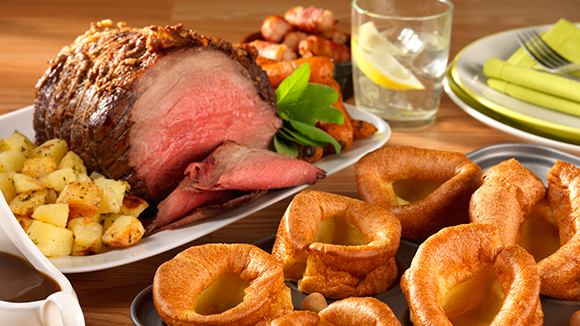 Yorkshire Pudding
No Sunday roast should be without these great tasting Yorkshire puddings. Crispy, golden Yorkshires with soft flavourful middles are perfect for roast dinners and this recipe makes sure your Yorkshires rise, every time.
Recipe serves

4

Preparation time

20 minutes

Cooking time

35 minutes
Ingredients
15 ml Vegetable oil
300 ml Low fat milk
1 Knorr Vegetable Stock Pot
120 g Plain white flour
2 Large eggs
Method
Pour the milk into a small saucepan and place over medium heat for 3-4 minutes, stirring regularly to dissolve the Knorr Vegetable Stock Pot. Remove from heat and allow to cool for 15 minutes.
Gradually mix the stock into the flour and eggs together until there are no lumps. The batter should have the consistency of cream. Place in fridge for at least 2 hours, but ideally overnight.
Preheat oven to 180°C.
Pour the oil into your Yorkshire moulds or oven tray to coat; remove the excess. Place into the oven for 5-10 minutes or until oil is smoking hot.
Pour the mix into the moulds or oven tray and cook for 20-25 minutes or until puddings are golden and crispy.
Try not to have anything else cooking in the oven at the same time as the Yorkshire Puddings, as other items cooking at the same time can create steam which could prevent the puddings from rising. Please note: This recipe requires 140mins chill time.