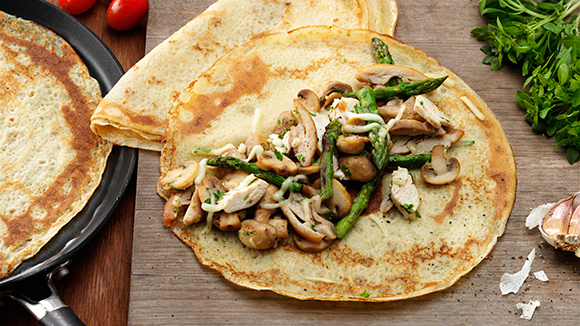 Savoury Pancake With Chicken and Asparagus
This savoury pancake recipe encompasses all the components of a hearty meal: chicken, asparagus, mushrooms and melted cheese. Full of subtle but delicious flavours, this dish is great for breakfast, lunch or dinner.
Recipe serves

4

Preparation time

25 minutes

Cooking time

20 minutes
Ingredients
300 ml Low fat milk
1 Knorr Vegetable Stock Pot
100 g Plain white flour
1 ml Robertsons Black Pepper
1 Large egg
30 ml Olive oil
400 ml Boiling water
200 g Asparagus tips
200 g Button mushrooms, thinly sliced
1 Clove crushed garlic
2 Chicken thighs, roasted
80 g Grated mozzarella cheese
Method
In a medium size saucepan heat the milk and Knorr Vegetable Stock Pot until dissolved, let cool for 15 minutes.
In a separate bowl add the flour, Robertsons Black Pepper and egg and mix well. Add a small amount of the milk and whisk well to form a thick paste. Add the remaining milk and whisk well to form the pancake mixture, which should resemble the consistency of cream. Add a quarter of a teaspoon of olive oil and mix well.
Heat a medium size non-stick frying pan. Add a small amount of the remaining oil and heat for 30 seconds. Remove pan from heat and gently pour the one and a half ladle of the mix into the pan, spreading the mix evenly. Turn the heat to low and cook gently for approximately 1 minute until the pancake starts to bubble, turn over and cook for another minute.
Remove from the pan and place on a plate, cover with foil to keep warm
To prepare filling, place asparagus in the boiling water, return to the boil then simmer gently on low heat for 12-15 minutes until asparagus is very soft. Remove from heat and drain.
Remove skin from roasted chicken, pull the meat away from the bone and break the meat into small pieces. Set Aside.
Heat 1 tablespoon olive oil in small frying pan. Add button mushrooms and garlic and cook on medium heat for 3-4 minutes until mushrooms soften. Add chicken and asparagus. Cook on gentle heat for 2 minutes. Add mozzarella cheese and keep over heat until cheese melts.
Leave the pancake in the pan. Add the chicken and asparagus mix. Fold over and place on plate to serve.