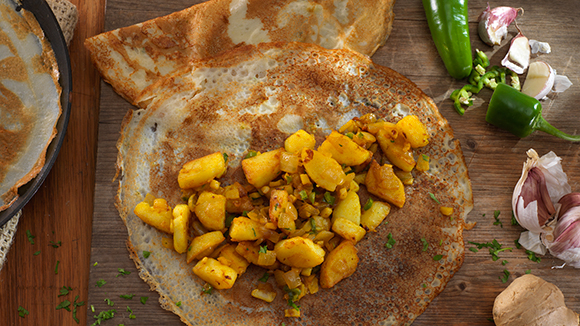 Savoury Pancake With Spicy Potato
Spice up your regular pancake routine with this delicious spicy potato pancake recipe. Seasoned with chopped ginger, tumeric and garlic, it packs a real taste punch. Satisfying and flavourful, it's a perfect quick meal for any time of day.
Recipe serves

4

Preparation time

25 minutes

Cooking time

20 minutes
Ingredients
300 ml Low fat milk
1 Knorr Vegetable Stock Pot
100 g Plain white flour
1 ml Robertsons Black Pepper
1 Large egg
1 ¼ tbsp Olive oil
For the filling:-
½ tbsp Olive oil
1 Onion, finely sliced
2 tbsp Freshly chopped ginger
2 Cloves garlic, finely chopped
1 tbsp Robertsons Turmeric
1 Large fresh green chilli, seeded and chopped
400 g Cooked potatoes, sliced
Method
In a medium size saucepan heat the milk and Knorr Vegetable Pot until dissolved, let cool for 15 minutes.
In a separate bowl add the flour, black pepper and egg and mix well. Add a small amount of the milk and whisk well to form a thick paste. Add the remaining milk and whisk well to form the pancake mixture, which should resemble the consistency of cream. Add a quarter of a teaspoon of olive oil and mix well.
Heat a medium size non-stick frying pan. Add a small amount of the remaining oil and heat for 30 seconds. Remove pan from heat and gently pour the one and a half ladle of the mix into the pan, spreading the mix evenly. Turn the heat to low and cook gently for approximately 1 minute until the pancake starts to bubble, turn over and cook for another minute.
Remove from the pan and place on a plate, cover with foil to keep warm.
To prepare the filling, heat the oil in a large frying pan. Add the onions, ginger, garlic, chilli and Robertsons Turmeric and cook on medium heat from 3-5 minutes until the onions soften.
Add the sliced potatoes and cook on medium heat for further 3-4 minutes until potatoes start to brown. Remove from heat and leave in pan for 5 minutes for potatoes to absorb the flavours.