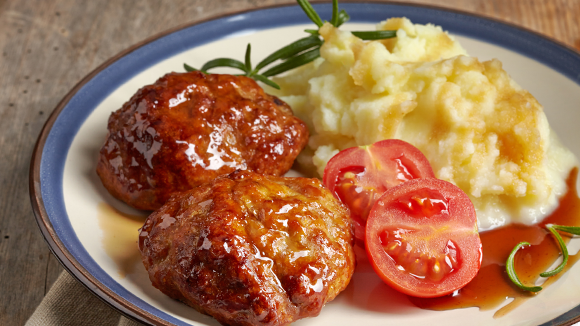 Tomato meatballs with pap
This traditional favourite tastes so good - it will definitely have you coming back for more!
Recipe serves

4

Preparation time

15 minutes

Cooking time

35-40 minutes
Ingredients
For the Meatballs:
30ml cooking oil
1 small onion, finely chopped
1 tsp crushed garlic
15ml Rajah Mild and Spicy Curry Powder
400g Beef mince
15ml Robertson Mixed Herbs
1 egg
Cooking oil for frying
For the Tomato Sauce:
45ml cooking oil
½ onion, finely chopped
5ml crushed garlic
4 medium tomatoes, grated
5ml sugar
For the Pap:
4 cups water
1 ¾ cups maize meal
KNORR Aromat Cheese
Method
To prepare the meatballs, heat oil in a medium size pot over gentle heat and add onion, crushed garlic and Rajah Mild and Spicy Curry. Powder. Cook the onion until soft and a little golden. Allow to cool.
In a bowl mix together the beef mince with the cooked onion and garlic mixture.
Add the Robertson's Mixed Herbs and egg to the beef mixture and combine.
Season with salt and pepper and divide the mixture into small round balls.
Heat oil in a frying pan and cook meatballs for about 20 minutes or until golden brown in colour and cooked through.
To prepare the tomato sauce, heat oil in a pot.
Add the onion and garlic and toss until coated and cook until soft and golden.
Add the tomatoes and sugar, to the onion mixture and season with salt and pepper.
Cook uncovered for about 20 minutes or until the tomato softens.
To prepare the pap, bring water to the boil in a large pot.
Add the maize meal to the boiling water and mix well.
Reduce the heat to a low heat and cook for 20-25 minutes with the lid on stirring occasionally (a crust will always form on the bottom of the pot as the maize meal steams and cooks).
Season generously with KNORR Aromat Cheese until cheesy.
Serve with Pap and Tomato meatballs.